Jacques MORGANTINI honoré par la Blues Fondation de Memphis (USA)
Jacques Morgantini a reçu le 03 Février 2017:
le « Keeping the Blues Alive Award 2017 »
décerné par la Blues Fondation de Memphis (USA) pour l'ensemble de son oeuvre et celle de son épouse Marcelle.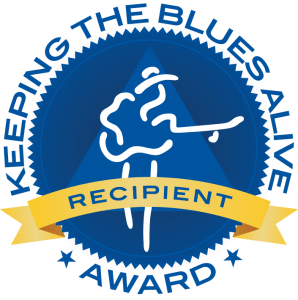 Communiqué de presse de la Blues Fondation aux médias;
JACQUES MORGANTINI, France
« It's hard to summarize all that 92-year old Jacques Morgantini has accomplished in this short biography. The first thing you understand when talking to Jacques Morgantini is that the "Bill" he's talking about sitting with in 1951 is Big Bill Broonzy!
He, first introduced blues music to France and even Europe in the late 1940s and 1950s. In 1945 he founded the Hot Club de Pau through which he organized blues concerts throughout the region. In the '70s, he came with his late wife Marcelle to the U.S. with a passion for photographing, filming, and recording Black blues musicians in Chicago and delivering it to the Europeans. The recordings he produced in the late '40s and through the '50s '60s and '70s range from Big Bill and Sister Rosetta Tharpe, T-Bone Walker, Magic Slim, Memphis Slim, Luther Snake Johnson and so many others iconic blues masters. He chaired the Hot Club of France for 22 years and started influential record labels like the MCM label and Black&Blue label. He set up the europeans tours known as the Chicago Blues Festival.
His biographic DVD, Mémoire de Blues de Jacques Morgantini, is a four-hours, two-DVD set which features archival performances and interviews with 30 featured musicians like John Lee Hooker, Muddy Waters, Jimmy Rogers, Luther Allison, Koko Taylor, Homesick James, Jimmy Johnson, Hubert Sumlin, and many others,
Though the dialogue is in French, the performance segments showcase the raw energy of a band of blues musicians in the energetic prime of their lives. In 2017, he was presented with the first French Blues Laureate Award. A fitting honor for a man who continues to share his blues knowledge wherever he travels. »
Vidéo-correspondance de Jacques Morgantini
adressée aux membres de la Blues Fondation et à la nombreuse assistance réunis lors de la remise du « Keeping the Blues Alive Award » à Memphis (USA) le 03 Février 2016